Energy Efficiency for Buildings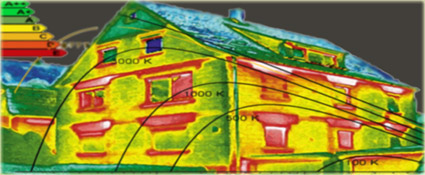 Energy Performance Certificates

Retrofit of Buildings

Green Building Certificates
Due to the implementation in Austria of the so-called Energy performance certificate Act (EAVG) in compliance with the EU Energy Performance of Buildings Directive, an energy performance certificate is required for all new buildings.
From 1.1.2009, you are also required to present an energy performance certificate when selling or letting existing buildings, commercial property and offices.
What is an energy performance certificate?
An energy performance certificate de tails of the projected energy consumption of a property and relates solely to the construction of the building and not its intended use. Comparable with the logbook of a vehicle (model, engine performance, etc.), an energy performance certificate details, among other aspects, the construction and the heating of a building under standardised conditions – similar to the mileage performance achieved by a vehicle.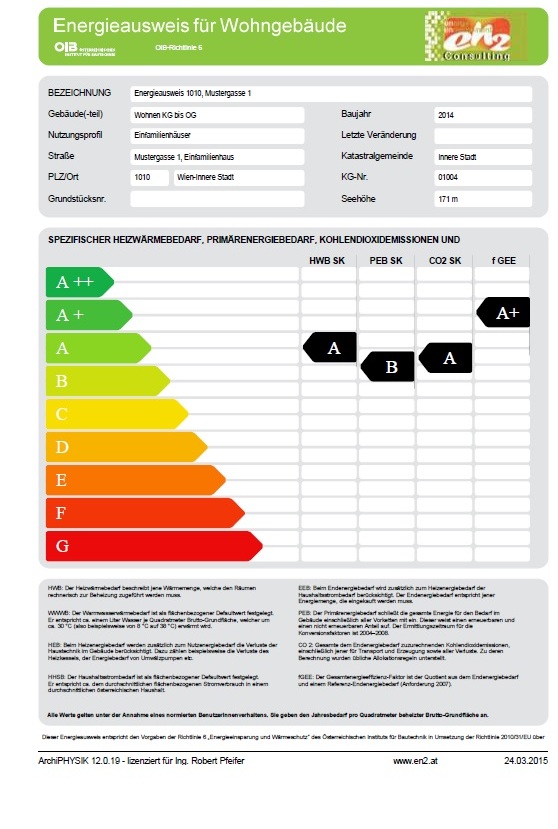 Depending on the usage of the building (room temperature, ventilation habits, number of inhabitants, etc.), the actual values may vary from those calculated. The application of standardised conditions nonetheless allows energy performance certificate values to be compared with those of other properties objectively. 
The energy performance certificate is based on information relating to the shell of the building, the heating system, ventilation, hot water heating and the energy sources used. In addition to this detailed information, an energy performance certificate also contains a classification on the first page which can easily be understood by non-experts; this is similar to the energy-use classification system used for household electrical appliances.     The energy performance certificate also contains suggestions for possible modernisation and renovation work.
 What advantages does an energy performance certificate offer?

An energy performance certificate offers real estate companies and property owners the following advantages:
It provides details of the technical condition of a building

It provides a basis for an objective comparison of properties in terms of energy                         

requirements and energy efficiency.

It therefore increases the degree of transparency in the real estate market

It contains suggestions for modernising and renovating buildings

It makes an active contribution toward environmental protection
An Energy performance certificate may only be issued by suitably authorised and qualified experts and companies (engineering offices, civil engineers, etc.) and contains the following information:
General data regarding the relevant building (type of building, building zone, year of construction and address)

A classification of the building in terms of an energy efficiency rating ranging from A++ (best classification) to G (worst classification)

Details of the issuer and validity period (max. 10 years)

Detailed building and climatic data

Detailed information regarding the heating, cooling and energy requirements

A comprehensive technical report plus an annex with the raw data and recommendations for renovation work to improve energy efficiency.
What an energy performance certificate can't do:
An energy performance certificate provides details of average energy consumption levels based on numerous parameters and under standardised conditions.
It does not, however, provide any conclusions regarding actual energy requirements since these are heavily dependent on the use of the building (for example, an increase in the room temperature of 1°C requires an additional 5-7% energy while incorrect ventilation is often the cause of significantly higher energy consumption).
Energy Performance Certificates as a basis for grants Thewosan
An energy performance certificate is also important for property owners when applying for grants. Appropriate grants can be obtained assuming that minimum energy saving levels can be proven as a result of thermal renovation work.
The aim of the so-called Thewosan (thermal renovation of residential units) grants is to contribute towards improving the environmental situation by means of reducing air pollution and CO2 emissions. The additional benefit for building users is the reduction in heating costs.
Different grant models apply depending on the province in which the property is located and how it is used.
Please contact us for more information on grants and assistance in preparing the necessary documentation (grant applications, technical documentary evidence, etc.)
Retrofit of commercial, residential and public building
We develop future oriented solutions for the refurbishment of residential, commercial and public buildings including innnovative technical solutions for retrofitting HVAC.
Green and blue building certificates (DGNB, ÖGNI)
We are skilled and certified in the trade of auditors (ÖGNI, DGNB). We register projects for certification and submit the necessary documents to the certification commission. We as auditors also instruct builder-owners in how to design and build sustainable buildings and in achieving green building certificates in platinum, gold and silver.
Since 2012, the Austrian Society for Sustainable Real Estate sets (ÖGNI) strong pulse on paradigm shift towards sustainability. The club is an initiative of more than 250 well-known companies, institutions and experts in the construction and real estate industry and has the 3P approach consisting of
Products – Blue or Green Buildings and sustainable building materials

Processes – new processing models, corporate governance, CSR and compliance and risk management, and

Persons who have the necessary knowledge, developed